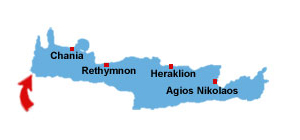 Den flotte naturstranden Elafonissi ligger i den sørvestlige delen av Kreta, langt borte fra travle feriebyer og all-inclusive hoteller. Den nærmeste større feriebyen er Paleochora, en times kjøring østover, men de fleste av strandens gjester kommer fra feriebyene på Chania-kysten. Herfra er kjøretiden omtrent halvannen time.
Elafonissi er ikke bare navnet på en strand, det er også navnet på en liten øy som blir til en halvøy ved lavvann. Da er det mulig å gå tørrskodd over til øya som er fredet for å beskytte en rekke sjeldne planter og dyr, bl.a. de utryddingstruede havskilpaddene caretta caretta. Turen rundt på øya er på 3-4 km, og halvveis på turen ligger det en meget liten kirke.
Selve stranden er minst like imponerende som omgivelsene. Stranden er kjent for sin fine sand som flere steder er delvis lyserød. Fargen kommer fra millioner av knuste muslingskall som er blandet sammen med sanden. Vannet er helt klart og har flotte turkise nyanser. I området like ved den lille øya er vannet meget grunt, nærmest som en lagune. Helt perfekt for barn!
Elafonissi har alle de vanlige fasilitetene som solsenger, parasoller, dusjer, omkledningsmuligheter og toaletter (mot betaling). De mest besøkte delene av stranden er overvåket av livreddere. Et par hundre meter bak stranden er det en kjempestor parkeringsplass.
Fra stranden er det ofte mulig å se kitesurfernes fargesprakende skjermer. Vindforholdene er nemlig meget gunstige for både vindsurfere og kitesurfere. En annen populær aktivitet er snorkling ved de mange revene som ligger litt ute i vannet i sørlig retning. Så husk dykkermaske, snorkel og det vanntette kameraet.
Når sulten melder seg ligger det to kaféer bakerst på stranden. Det er en til ved parkeringsplassen, og det er mulig å ta mat og drikke med ned på stranden fra kaféene.
Se de 10 beste strendene på Kreta her.
Se vår video fra Elafonissi – og følg vår Youtube kanal
Elafonissi kart
Som kartet viser er stranden  formet som en trekant og har derfor to selvstendige strender. Det er stranden mot sørøst som er mest besøkt. De som ønsker å ligge mer i fred kan finne seg et bra sted på den lille øya.