Almyrida er en familievennlig ferieby i den nordvestlige delen av Kreta. Byen ligger noen kilometer øst for den noe større feriebyen Kalives og cirka 15 kilometer øst for Chania.
Feriebyen har alt som soltørste turister har bruk for, fra strender, spisesteder og mini-markeder til turistbutikker og bilutleie.
Den har også et godt utvalg av hoteller, hvorav strandhotellet Almyrida Resort er et av de mest populære.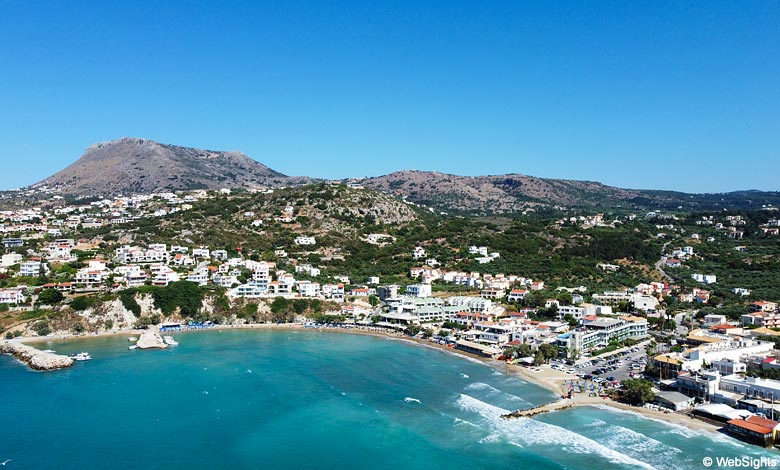 Strender i Almyrida
De to beste strendene i Almyrida ligger rett foran byen, og her finnes det finkornet sand og lavt vann. Du finner også alle nødvendige fasiliteter og flere forskjellige former for ikke-støyende vannsport. Strendene ligger inne i en bukt som beskytter mot bølger og understrømninger. Det er med på å gjøre de to strendene svært familie- og barnevennlige.
Den tredje stranden ligger i den vestlige utkanten av byen, og dette er en steinstrand uten fasiliteter. Det finnes derimot enkelte solsenger for de som vil ligge i fred ved denne stranden.
Restauranter og natteliv i Almyrida
Utvalget av restauranter i Almyrida rekker til en to-ukers ferie. De fleste av restaurantene ligger i gaten bak stranden, og flere av dem serverer tradisjonell gresk mat.
Nattelivet er veldig stille, men det er noen barer som viser diverse fotballkamper m.m. samt en hyggelig cocktailbar, hvor livet kan nytes etter middag.
Aktiviteter i Almyrida
Almyrida er omgitt av et storslått landskap med De Hvite Fjell (Lefka Ori) i bakgrunnen. Det anbefales å leie en bil og besøke noen av de sjarmerende landsbyene, som for eksempel Plaka og Kokkino.
Om du ønsker shopping og kulturelle opplevelser, så ligger Chania kun en busstur unna. Her finner du den flotte venetianske havnen og den gamle bydelen, som absolutt er verdt besøket. Det holdes markeder flere ganger om uken, og ellers er den historiske markedshallen åpen fra mandag til lørdag.
Se vår video fra Almyrida – og følg vår Youtube kanal
Almyrida kart
Det ses tydlig på kartet at Almyridas strender ligger godt beskyttet inne i en bukt. Kun en kilometer mot vest ligger nabobyen Kalives.